NEW JERSEY GUN LAWYERS
You have the
Right to Protect Yourself
And we have the passion for defending your constitutional rights
New Jersey

Gun Lawyers
With Offices in Hackensack, Newark, and Morristown
The preamble to the United States Constitution reads: "We the People of the United States, in Order to form a more perfect Union, establish Justice, insure domestic Tranquility, provide for the common defense, promote the general Welfare, and secure the Blessings of Liberty to ourselves and our Posterity, do ordain and establish this Constitution for the United States of America." This landmark document was quickly followed by the Bill of Rights, and the two together form the foundation of the greatest superpower in the modern world.
The Bill of Rights establishes the fundamental liberties guaranteed to all U.S. citizens, among the first and most significant of which is "the right to bear arms," outlined in the Second Amendment. Over the years, the right to bear arms has been called into question, the true meaning debated, and the underlying issues becoming the source of highly contentious debates among Americans on both sides of the political spectrum. With adversaries invoking mass shootings and gun violence as arguments against the right to bear arms, supporters point to the framers of the U.S. Constitution and the principles upon which this country was founded.
New Jersey Gun Laws
It has been difficult to reach consensus with regard to the true meaning, intention, and application of the Second Amendment, but America is indeed a republic, which allows the states significant discretion in determining the gun laws that apply within their jurisdictions. As a result, your gun rights and responsibilities can dramatically change based on where you live, work, visit, or even travel through. New Jersey is a prime example of the implications of gun policy, enacting some of the strictest gun laws in the nation with stringent requirements for gun owners and a policy of extreme enforcement against weapons offenders.
So, how does an average American exercise their gun rights without violating the law? And what do you do if, for some unfortunate reason, you are accused of a criminal offense involving a weapon?
Criminal Defense Against Weapons Charges In New Jersey
At The Tormey Law Firm, it is our purpose to provide the knowledge and resources that you need to enjoy your rights in full compliance with New Jersey weapons laws, and when necessary, to provide the most comprehensive and vigorous defense for those charged with weapons offenses. With members who previously served on behalf of the State prosecuting gun offenders, we utilize or unique insight to construct the most innovative and effective defense strategies.
Our New Jersey weapons defense team includes several former gun prosecutors, one of whom served in the weapons forfeiture unit of the Morris prosecutor's office, multiple attorneys who held positions in the U.S. Attorney's Office, and highly acclaimed attorneys who have established a reputation for excellence through their many successes in Superior Courts across New Jersey, including in Bergen, Morris, Essex, and Passaic counties. Our firm's founder, Travis J. Tormey, has received the Avvo.com Client's Choice Award every year for the last four years and was recently named among the Top 10 Criminal Attorneys in New Jersey by the American Jurist Institute.
Whether you have been charged with unlawful possession of a weapon, possession of a weapon for an unlawful purpose, a certain persons offense, or another weapons crime, or you are seeking the return of your weapons in connection with an alleged domestic violence incident, our seasoned New Jersey criminal defense attorneys are poised to attack the State's case in pursuit of the best possible outcome.
Experienced
New Jersey
Weapons Attorneys
Who We Are
Our criminal trial team is composed of former gun prosecutors and experienced criminal defense lawyers who are intimately familiar with the legal system, firearms offenses, and all of the potential defenses that may apply to your case. For instance, John Graves, one member of our team, served in the weapons forfeiture unit at the Morris County Prosecutor's Office.

Another experienced criminal defense attorney who handles a wide range of firearms cases for the firm, Nicholas Moschella, served as a former prosecutor in 22 towns throughout Monmouth and Ocean counties. He also previously represented several police departments in southern New Jersey on firearms appeals filed by their residents. Using his strong foundation in weapons laws, combined with years of experience as a criminal defense lawyer at one of the state's largest firms, Mr. Moschella has continuously delivered tremendous results for clients facing gun charges in Monmouth County, Middlesex County, Ocean County, and Atlantic County. He also frequently assists our clients with firearms permit appeals and litigation.

Finally, our managing partner, Travis J. Tormey, was recently recognized as one of the Top 10 Criminal Lawyers in New Jersey by the American Jurist Institute. He has a perfect 10.0 attorney rating on Avvo.com and has received their Client's Choice Award every year for five straight years. With our knowledge and experience representing clients in a vast array of gun and weapons cases in Bergen County, Essex County, Hudson County, and statewide, we are frequently called upon as a respected legal resource in the area. For example, our firm was recently featured in The Bergen Record as a legal authority on New Jersey gun rights.. Overall, we are the team to have on your side when dealing with a gun or weapons related issue in New Jersey.

Brent DiMarco

Associate

Brent DiMarco is knowledgeable criminal and DCP&P defense lawyer who has handled thousands of cases over the course of his distinguished career. Mr. DiMarco has successfully defended numerous individuals charged with a indictable weapons offenses in Superior Courts across the state, some of which involve domestic violence and child abuse investigations. He has also researched and written memorandum on legal issues including sentencing reductions, search and seizure, and post-conviction relief petitions, which he leverages to successfully represent clients in proceedings ranging from suppression and exclusionary hearings, to first-degree jury trials.

Before joining the Tormey Law Firm LLC, Brent worked for a criminal defense law firm and several DCP&P defense firms, handling all aspects of child abuse and neglect litigation. Prior to transitioning into defense practice, he served as a judicial law clerk to a criminal trial judge in Hudson County.

Mr. DiMarco graduated with honors from Rutgers University and New England School of Law.

READ MORE

Nicholas Moschella

Of Counsel

Served as a former prosecutor in over 20 towns throughout Monmouth and Ocean counties
Previously represented several south Jersey police departments on firearms appeals
Worked as a criminal defense attorney at one of the largest criminal defense firms in New Jersey
Listed for inclusion in the SuperLawyers Rising Stars list in the area of criminal defense in 2017 and 2019.
Has successfully handled a number of gun cases in Ocean County, Monmouth County, Atlantic County, and Middlesex County
Assists clients with firearms permit appeals and litigation
Represents clients in weapons forfeiture hearings, including those involving domestic violence

READ MORE

 John P. Graves

Of Counsel

Previously served as a judicial clerk for a highly-respected judge in Passaic County
Served as a former assistant prosecutor in Morris County for over four years, where he handled cases involving felony criminal charges, as well as weapons forfeiture hearings, and gun permit appeals
Served as an assistant Morris County prosecutor in the Firearms Return Unit
Skillfully represents clients in domestic violence cases involving weapons
Assists with firearms permit applications and denials

READ MORE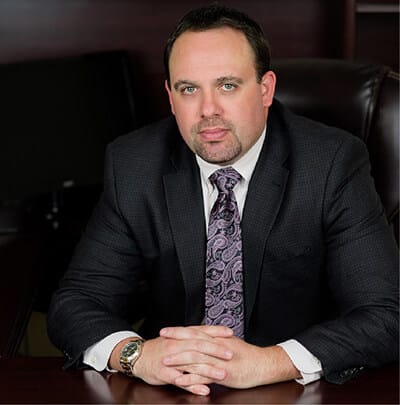 Travis J. Tormey
Founder and Managing Partner
Named one of the Ten Best Criminal Lawyers in New Jersey by the American Jurist Institute in 2016
Named one of the Top 10 Criminal Attorneys in New Jersey under 40 years old by the National Academy of Criminal
Named one of the Top 10 Criminal Trial Lawyers in New Jersey under 40 years old by the National Trial Lawyers Association
Avvo Attorney rating service: 10.0 Perfect Rating
Avvo Client's Choice Award Winner: 2013, 2014, 2015, 2016
READ MORE
Case
Results
Bergen County BB Gun Charges Downgraded and Dismissed

"In this case, we represented a young man facing a BB gun charge arising out of Palisades Interstate Park in Bergen County. Our attorneys were able to get the charges downgraded to disorderly persons (misdemeanor) offenses and then the charges were dismissed in Municipal Court."

READ MORE

Morris County Handgun Charges Resolved with PTI Program

"Our client hired us facing a second degree gun charge in the Morris County Superior Court in Morristown, NJ. Although not typically available to individuals charged with second degree firearms crimes, we were able to secure his enrollment in the PTI program to help him avoid jail time and a felony record."

READ MORE

Newark NJ Shotgun Possession Client Avoids Prison

"Here, our firm defended a client charged with unlawful possession of a shotgun in Newark. He was initially facing 5 to 10 years in prison, with mandatory prison time and a period of parole ineligibility if convicted. However, our lawyers negotiated a sentence of non-custodial probation and our client was able to avoid prison altogether."

READ MORE

Passaic County Gun Case Dismissed

"Our attorneys defended a client charged charged with unlawful possession of a weapon and possession of a weapon for an unlawful purpose in Paterson. We hired an investigator, who obtained an essential witness statement. Based on this new evidence, a Grand Jury failed to indict our client and the charges were dismissed altogether."

READ MORE

Bergen County NJ Gun Charges Dismissed

"In this case, our team represented a client who was arrested in Mahwah, New Jersey with a gun in her car without a legal permit for it. Although the firearm was purchased out-of-state and possessed in violation of NJ weapons laws, we were able to help her avoid jail time and a felony on her record through Pre-Trial Intervention, after which the charges were dismissed."

READ MORE
Reviews
Raymond Terrell - Middlesex County PTI 3 years for Dismissal

"The work done on my behalf surpassed any of my expectations of this law firm. They worked tirelessly on my case and eased my anxiety to where I could function on a daily basis without worry. The imminent dismissal of serious allegations was the best outcome I could think of and with Travis's help, it happened. Although I intend to never need legal representation in the future, should I ever do…I'll definitely be calling Travis for any legal issues that may arise. Thank you for all your help."

Mike Shobes - Bergen BB Gun pointing, Possession of Weapon for Unlawful Purpose - Dismissed

"Wow, I got my peace of mind back thanks to Travis. I really appreciate you for getting my two felony charges dismissed. Thank you so much Travis and the rest of the Tormey Law Firm, I will refer whomever I come across needing legal help to you, thanks. You're the best!"

A rudyzzz28 - Pennsylvania Resident, Out-of-State Permit - Hunterdon County PTI

"Travis Tormey is the best lawyer I had to deal with, very easy to get ahold of and easy to work with. He said he was able to get me on PTI and he did, got me out of a 2nd degree felony charge in NJ. I highly recommend the Tormey law firm."

Vincent Decker M - Morris Gun Case - Charges Dismissed with PTI Program

"Travis had my gun charges dismissed and also got my firearm returned to me. He answered my call on a Sunday morning and took care of everything I only had to go to court twice and was only there a couple of minutes. He did an excellent job"
Legal News
What do New Jersey's 7 New Gun Laws Do?
Thought New Jersey's Gun Laws were Already Tough? They Just Got Tougher Governor Murphy signed a new slate of gun bills into law earlier this month that defenders call common sense and detractors criticize as eroding Second Amendment rights in New Jersey. The seven new laws, termed the "Gun Safety Package 3.0," is the third […]
READ MORE