Weapons and Schools in New Jersey
Gun Lawyers Serving Clients in Middlesex County and across New Jersey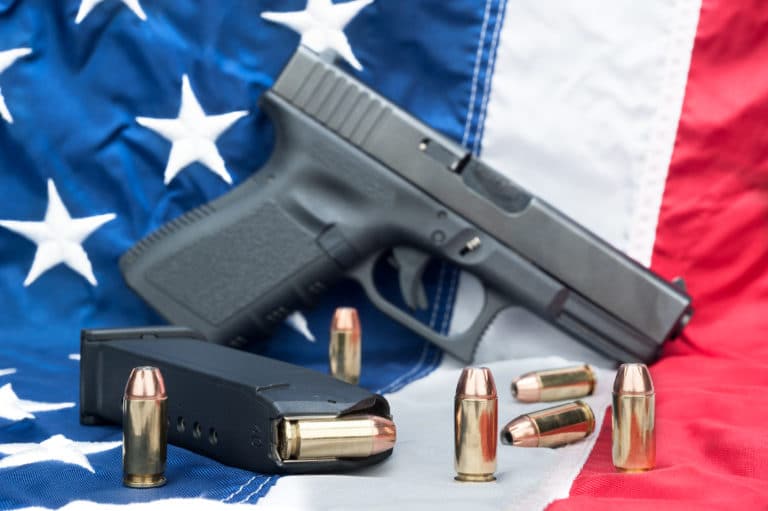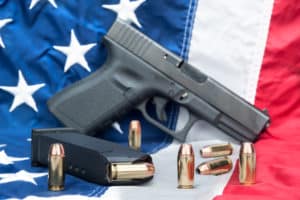 New Jersey law expressly prohibits weapons at schools, colleges, universities, and other educational institutions. As such, there are serious penalties for possessing a weapon of any kind, including firearms, knives, tear gas, BB guns, and imitation firearms, on school grounds. If an individual is found in possession of a weapon in or around an educational institution, he or she may face serious charges for unlawful possession of a weapon. These criminal weapons offenses are punished severely with significant prison time, a criminal record, and thousands of dollars in fines.
At The Tormey Law Firm, our attorneys have successfully represented thousands of clients charged with weapons offenses in New Jersey, from Middlesex to Morris, Bergen to Essex, and Hudson to Monmouth counties. Our firm's founder, Travis J. Tormey, was recently named among the Top 10 Criminal Attorneys in New Jersey by the American Jurist Institute, and we uphold his standard of excellence by providing the most effective defense strategies to each and every one of our clients. If you or someone you love is facing charges for unlawful possession of a weapon or another weapons offense in New Jersey, contact us today at (201)-614-2474 for a cost-free consultation.
Weapons and Firearms at New Jersey Schools
The statute that prohibits firearms and other weapons in educational institutions is found in section N.J.S.2C:39-5 of the New Jersey Criminal Code, which addresses offenses that constitute "unlawful possession of a weapon."
Firearms on School Grounds in New Jersey
According to this section, it is a third degree crime for a person to possesses a firearm in or on the grounds of any school, college, university or other educational institution, without the written authorization of the governing officer of the institution. Note that you can still be charged with this offense if you have a valid Permit to Carry a Handgun or a valid Firearms Purchaser Identification card. Third degree crimes are punishable by a sentence to serve between 3 and 5 years in New Jersey State Prison.
Other Weapons on School Grounds in New Jersey
It is a fourth degree crime to possess any weapon other than a firearm or any weapon or components that can be readily assembled into a firearm or other weapon in or on the grounds of any school, college, university or other educational institution, without the written authorization of the governing officer of the institution. A weapon can refer to any item that is capable of inflicting bodily injury or causing physical damage, including: a defaced firearm, stun gun, gravity knife, switchblade knife, dagger, dirk, stiletto, billy, blackjack, metal knuckle, sand club, slingshot, cestus, ballistic knife, hollow-point bullets, leather band studded with metal filings, or razor blades embedded in wood. Fourth degree crimes are punishable by a sentence to serve up to 18 months in New Jersey State Prison. 
Imitation Firearms on School Grounds in New Jersey
It is considered a disorderly persons offense for a person to possesses an imitation firearm in or on the grounds of any school, college, university or other educational institution, without the written authorization of the governing officer of the institution. Note that you can still be charged with this offense if you have a valid Permit to Carry a Handgun or a valid Firearms Purchaser Identification card. Disorderly persons offenses are punishable by a sentence to serve up to 6 months in the county jail.
Federal Law on Gun-Free Schools
Consistent with New Jersey's tough-on-guns stance and promotion of safe schools, the state complies with the Gun Free Schools Act (GFSA), which received re-authorization in 2001 by the No Child Left Behind Act. GFSA is a federal program that compels states to enforce student suspensions for bringing guns to school. Encoded in the Elementary and Secondary Education Act of 1965 (ESEA), GFSA requires states funded under ESEA to adopt policies that comply with GFSA mandates in the context of each state's laws. Under the GFSA mandate, local educational agencies (LEA) must have rules and regulations regarding guns, students, suspensions, and the juvenile justice system. It is important to note, Section 921(a) of the U.S. Code's Title 18 defines firearms to include any weapon made to or able to be converted into a fire-powered, projectile-launching mechanism. The section covers everything from a handgun to a bomb or rocket.
Expulsions and Suspensions for Students who Bring Guns to School
GFSA, as modified by the No Child Left Behind Act, conditions states receiving educational funding from the federal government on maintaining policies consistent with GFSA. As a contingency for government funds, state educational departments must ensure LEAs have a minimum one-year expulsion as a punishment and safety policy regarding students who bring firearms to school. Expulsion means removing the student from their regular school program. Furthermore, GFSA requires LEAs to refer those students violating school gun policies to the state or juvenile court system. In sum, the state schools must enforce GFSA policies on suspension and referral or forfeit ESEA funds.
However, states may use a case-by-case approach to discipline in the interests of fairness and compliance with other laws, including the Individuals with Disabilities Education Act (IDEA), without forfeiting financial aid. In each educational district, a board member, superintendent, or other official is responsible for the role of the chief administrative officer, who decides when modifications to the one-year suspension are appropriate for each case of student firearms possession on school property. They also determine the specifics of the modifications, for example, if the expulsion is for six months or a day, rather than the one year, or if the suspension allows the student to attend other programs instead of their regular educational program.
As per the latest modification, GFSA requires state suspension policies and procedures to apply only to those students who have guns at school unless the firearm is legally locked in a vehicle or on school premises for authorized and safe school or after-school activities, such as a rifle club or hunting. In addition, the GFSA clarifications designate the chief administering officer as the one who keeps records of each modification to the one-year suspension. Further, the state must submit annual compliance reports, including a description of the expulsion, circumstances, and changes to the mandatory suspension.
Private vs. Public Schools
Though the mandates apply to public schools that receive government funding, private schools may also voluntarily adopt GFSA policies or mandatorily apply the GFSA requirements if their students participate in public school or federal programs. Private school students who violate the GFSA are then suspended from the programs for one year, not from their school. All students are guaranteed constitutional protections in the suspension process, whether private or public. They must receive notice of the suspension and grounds and an opportunity to present their side, after which the LEA decides the outcome.
How does NJ Enforce Requirements for Firearms at Educational Institutions?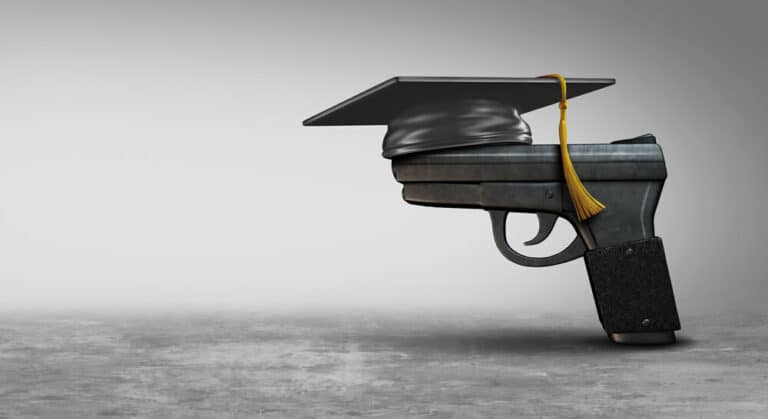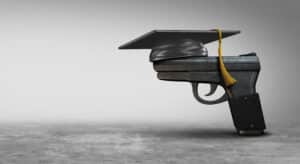 New Jersey's compliance with the GFSA is detailed in Administrative Code 16A:16-5.5, titled, "Removal of students for firearms offenses." Firearms are identified in N.J.S.A. 2C:39-1(f) and section 921(a), U.S. Title 18, for purposes of the administrative code compliance with the GFSA. New Jersey further references its Zero Tolerance for Guns Act and specifies which students fall under Administrative Code 6A:16-5.5. Students subject to a one-year suspension from their school's general education program are juvenile delinquents or convicted criminals for possessing, getting caught with, or committing a crime with a firearm in their possession on school grounds. The chief administrator is authorized to modify the suspension and remove students with disabilities in compliance with state and federal law. They are also charged with record keeping, as the GFSA requires.
Administrative Process if a Student is Found with a Firearm on School Property
Each school principal or their stand-in is responsible for implementing the expulsion by detaining students until their parents retrieve them from school, reporting incidences to the chief school administrator, and alerting law enforcement of any legal violations. Parents receive notifications of the removal, report to law enforcement, and their child's rights, including a hearing before the district board of education within 30 days of the firearm incident and a decision within five days of the hearing. After the board suspends or returns the student to their regular program, the chief administrator places the student in the appropriate program. The board's decision, nature of the offense, student evaluation, and principal's or alternative program director's recommendation are big factors for placement. For example, one such placement may be in an alternative educational program. Homeschooling or other outside placement during suspension are also options. But any placement of students with disabilities must comply with special education laws.
New Jersey law leaves the specific safety rules to education district boards regarding guns lawfully on school property. However, students (only those without gun convictions) must get the chief administrator's written approval before keeping guns in cars on school property. Other provisions facilitating compliance with the GFSA include mandates for schools to cooperate with law enforcement on school firearms matters, including the chain of command when reporting a gun incident on the school campus or other school property.
Juvenile Students Charged with Gun Possession at NJ Schools
Not only can a juvenile be charged with firearm possession by a minor, but they may also be charged with unlawful possession of a weapon, possession of a gun at an educational institution, and even other potential crimes like possession of a weapon for an unlawful purpose, or terroristic threats. In any and all of these cases, it is with great urgency that parents and guardians seek the advice and counsel of experienced weapons lawyers. If your child's school plans to suspend and report your child for having a firearm at school, contact a knowledgeable New Jersey gun law attorney right away.
The mandatory reporting to law enforcement or juvenile authorities may cost your child more than a school suspension. You will need the help of a skilled attorney to represent your child at the administrative hearing and throughout the juvenile or criminal process. Contact an attorney on our team to discuss your child's situation. You may learn that there are ways to challenge administrative, criminal, or juvenile proceedings. We will do everything in our power to protect their rights and their future.
Contact our Hudson County Gun Lawyers Today
At The Tormey Law Firm, we have achieved numerous dismissals, alternatives to incarceration and outright avoidance of conviction in gun cases for both juvenile and adult clients in New Jersey. If you have been charged with possession of a handgun or weapon on school grounds, unlawful possession of a weapon, or another weapons offense, contact our New Jersey gun lawyers to discuss your case. Consultations are always provided free of charge. Call (201)-614-2474 to speak with an attorney 24/7.