Children and Firearms Laws in New Jersey
Weapons Attorneys Assisting Clients in Passaic County and across New Jersey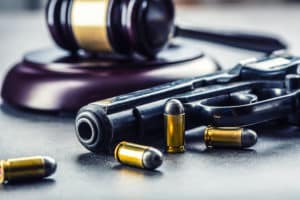 The issue of children and guns is exceedingly contentious, as mass shootings, accidental deaths, and juvenile gun violence have occurred with increasing frequency over the last several years. Considering the many facets of this issue, including gun storage to protect children, gun training or competition among children, juvenile criminal weapons charges, and criminal charges arising from the unlawful transfer of guns to underage persons, the questions are manifold and the answers complex. At The Tormey Law Firm, our highly knowledgeable New Jersey weapons attorneys decode the legal gibberish and help our clients to successfully navigate through their gun-related matters. Whether you are in need of criminal defense against juvenile gun charges or simply have questions about the law regarding children and guns in New Jersey, we are here for you. Simply contact our offices at (201)-614-2474 to receive your free initial consultation. And read on to find answers to some frequently asked questions about children and firearms in New Jersey.
What is NJ law on storing guns around children?
New Jersey law outlines its policy on the storage of firearms in section N.J.S.A. 2C:58-15 of the New Jersey Criminal Code. Under this section, it is a disorderly persons offense if a minor gains access to a loaded firearm on a premises that is under the person's control if the person knew or reasonably should have known that the minor could gain access to it, unless the person:
Stores the firearm in a securely locked box or container;
Stores the firearm in a location which a reasonable person would believe to be secure; or
Secures the firearm with a trigger lock.
For the purpose of this section, a minor is a person under the age of 16. Also, this section does not apply under circumstances in which the minor is using the firearm lawfully (i.e. instruction or training) or under circumstances in which the minor unlawfully enters the premises (trespassing). In New Jersey, a conviction for a disorderly persons offense may result in a sentence to serve up to 6 months in the county jail, a fine of up to $1,000, and a charge on the defendant's criminal record.
In essence, this does not mean that a parent or anyone else living in a home with children cannot keep their firearms inside the house. Rather, the owner of the weapons just needs to take proactive measures to safely secure the guns and ensure that any minor cannot easily get a hold of the guns. Safety measures such as keeping the firearms in a securely locked box or container, placing a trigger lock on the gun, or storing the weapons in an area where it would be nearly impossible for any child to gain access to should shield you from prosecution. If you are unfortunately charged with violating  N.J.S.A. 2C:58-15, you may have multiple valid defenses.
Can a minor possess a firearm in New Jersey?
According to section N.J.S.A. 2C:58-6.1, there are specific situations in which it is legal for a minor to possess a firearm. Notably, a minor is considered a person under the age of 18 if he or she is possessing a firearm such as a rifle or shotgun, and under the age of 21 if he or she is possessing a handgun. In order to be lawful, the minor must be in the possession of a firearm:
In the actual presence or under the direct supervision of his father, mother or guardian, or some other person who holds a permit to carry a handgun or a firearms purchaser identification card, as the case may be;  or
For the purpose of military drill under the auspices of a legally recognized military organization and under competent supervision;  or
For the purpose of competition or target practice in and upon a firing range approved by the governing body of the municipality in which the range is located or the National Rifle Association and which is under competent supervision at the time of such supervision or target practice or instruction and training at any location; or
For the purpose of hunting during the regularly designated hunting season, provided that he possesses a valid hunting license and has successfully completed a hunter's safety course taught by a qualified instructor or conservation officer and possesses a certificate indicating the successful completion of such a course.
A violation of this section is considered a fourth degree crime, which is punishable by a sentence to serve up to 18 months in New Jersey State Prison.
What if a Juvenile is Charged with Weapons Crime in NJ?
Juveniles can face a broad range of criminal charges related to weapons in New Jersey, in the same way that adults can. For example, a juvenile may be taken into custody for possession of a weapon for an unlawful purpose if he or she is found with a gun, knife, destructive device, or another item considered a weapon with the intent to commit a crime. This is common in cases where a minor is armed with a weapon in the course of committing a theft or with the intent to commit a robbery. It can also apply in situations where the juvenile is accused of assaulting someone with a weapon. When a person under the age of 21 is charged with a weapons crime, their case is adjudicated in the juvenile justice system, as opposed to the adult criminal justice system. While this system operates under its own rules and procedures, weapons charges are taken extremely seriously, regardless of the age of the defendant. It is vital to have an experienced attorney defending your son or daughter if they are facing charges for a juvenile weapons offense in New Jersey.
Need Help with a Juvenile Gun Case in New Jersey? Contact us Now
If you are in need of assistance with a case involving a minor with a weapon in NJ, contact our experienced gun lawyers for immediate help at (201)-614-2474. With local offices in multiple counties, we serve clients across New Jersey, including in Passaic, Essex, Morris, Middlesex, Union, Ocean, and Hudson County.