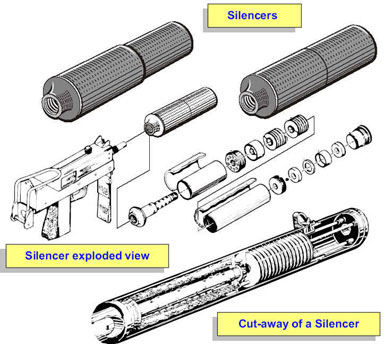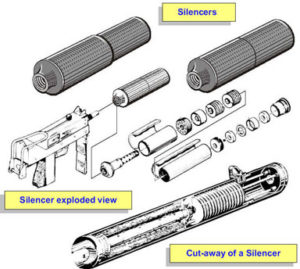 Firearms silencers, also referred to as suppressors or mufflers, are devices fixed to, or part of, the barrel of a firearm. The intention of these devices is to reduce or "silence" the noise that is typically generated when firing a gun. Due to the innate function of silencers, they are often used in criminal activity to prevent offenders from being detected by police or potential witnesses.
Under U.S. Federal law, an individual convicted of a violence crime using a silencer is subject to a mandatory minimum prison sentence of 30 years. However, silencers are legal in 42 of the United States when they are used legally. The Federal government enforces strict regulations with regard to silencers. The National Firearms Act requires potential owners to undergo a thorough application process, which includes a criminal background check conducted by the Bureau of Alcohol, Tobacco, Firearms and Explosives (ATF).
Although the Federal government has not banned silencers, New Jersey joins six states, including California, Delaware, Hawaii, Illinois, Massachusetts, New Jersey, New York, and Rhode Island, as well as the District of Columbia, in expressly prohibiting the possession of these devices. As a result, possessing a silencer in New Jersey may result in criminal weapons charges and severe penalties.
Our New Jersey Weapons Charges Defense Lawyers
If you are charged with illegal possession of a silencer in New Jersey, do not delay in seeking knowledgeable and aggressive legal representation. At The Tormey Law Firm, our New Jersey weapons attorneys represent clients charged with criminal weapons offenses ranging from possession of a weapon for an unlawful purpose to unlawful disposition of a firearm in courts across New Jersey. With three convenient office locations, we frequently defend clients in Trenton, New Brunswick, Freehold, Newark, Hackensack, and in courts throughout the State.
With a team of former weapons prosecutors, former members of the U.S. Attorney's Office, and a former member of the Morris County Prosecutor's Office's Weapons Forfeiture Unit, our lawyers have unique and highly valuable insight into the prosecution of these cases. We leverage this knowledge to construct the most effective defenses for our clients and ultimately, to achieve superior results. To discuss your case with one of our New Jersey weapons lawyers today, contact our offices at (201)-614-2474 for a free initial consultation.
Silencers in New Jersey
Definition of a Silencer
According to section N.J.S.A. 2C:39-1, the statute that provides definitions of key weapons terms used in New Jersey law, a "firearms silencer" means any instrument, attachment, weapon or appliance for causing the firing of any gun, revolver, pistol or other firearm to be silent, or intended to lessen or muffle the noise of the firing of any gun, revolver, pistol or other firearm.
Possession of a Silencer
In New Jersey, it is unlawful to possess a silencer unless you are a law enforcement officer, member of the armed forces, or member of the National Guard, while on active duty or traveling to or from an authorized place of duty. For an average citizen, possession of a silencer is strictly prohibited. As such, possession of a silencer is considered a violation of N.J.S.A. 2C:39-3, the statute that addresses Prohibited Weapons and Devices. A violation of this section is classified as a fourth degree crime when the offense involves a silencer. If you are found guilty, you may be sentenced to serve up to 18 months in New Jersey State Prison, and to pay a fine of up to $10,000.
Other Offenses Involving Silencers
Under N.J.S.A. 2C:39-9, New Jersey also expressly prohibits the manufacture, transport, sale, shipment, or disposition of silencers. These offenses are also considered fourth degree crimes and are punishable by a term of incarceration of up to 18 months in NJ State Prison and a maximum fine of $10,000.
Contact our Mercer County Weapons Defense Attorneys Today
If you have questions regarding silencers in New Jersey or you are facing criminal charges related to the possession of a silencer, or another offense, contact our New Jersey weapons attorneys today at (201)-614-2474 for a cost-free consultation.