New Jersey Pointing a Firearm Charges
"A fourth degree aggravated assault charge applies when you are accused of pointing a firearm at someone in New Jersey. For this crime, a conviction is punishable by up to 18 months of incarceration."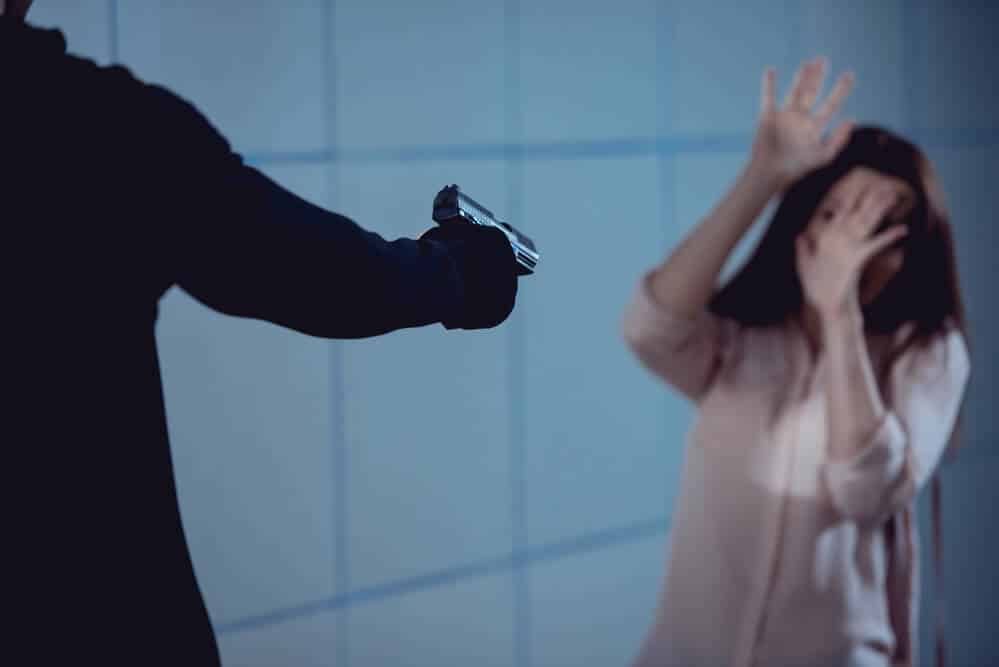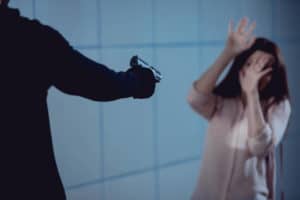 Are you facing a fourth degree Aggravated Assault charge for pointing or brandishing a firearm in New Jersey?  If so, you are facing serious penalties and jail time. Hence, it is critical to have aggressive and experienced criminal defense attorneys representing you to fight against these charges. Our team at The Tormey Law Firm is dedicated to providing the best possible defense for clients facing weapons charges, such as 4th degree pointing a gun throughout New Jersey, including in Bergen County, Essex County, Passaic County, Morris County, Hudson County, and Monmouth County. Whether you are facing a single charge or multiple charges in the same case, our lawyers have the knowledge and actual results to put to work for you. We encourage you to call (201)-614-2474 today for a free consultation. An attorney is available to review your specific firearm case with you now.
Criminal Charges for Pointing a Firearm in New Jersey
You may face multiple charges for pointing a firearm at another person in New Jersey. In particular, the fourth degree pointing charge under N.J.S.A. 2C:12-1b(4) specifically addresses the behavior of allegedly brandishing a firearm. Just for a fourth degree offense alone, you are looking at up to eighteen months in prison and up to $10,000 in fines and penalties imposed by the Court.
What is the State required to prove for fourth degree aggravated assault charge for pointing or brandishing a firearm?
The State is required to prove that the defendant: possessed a firearm, knowingly pointed it at another, and said actions manifested an extreme indifference to the value of human life. In other words, if the defendant had a firearm and pointed or brandished it at someone, then the State can prove aggravated assault.
You may be charged with a pointing offense in addition to facing a second degree charge for Possession of a Weapon for an Unlawful Purpose. This statute is overly broad, so also charging you with Aggravated Assault for pointing a firearm may result in charging you twice for the same alleged conduct. Since the pointing offense is specifically defined in the assault statute under N.J.S.A. 2C:12-1b(4), it may be inappropriate to also charge you with unlawful purpose. A second degree charge for unlawful purpose carries a mandatory minimum sentence and means that you are potentially facing 5-10 years in State prison.
In addition to the steep penalties for each of these offenses, your criminal record will also severely be impacted.  Having felony offenses can prevent you from certain job opportunities and overall be shameful to explain to others.  Although your offenses may be eligible for an expungement, any arrests or convictions can still blemish your background.
Third degree charges apply when accused of pointing a gun at a law enforcement officer
A charge for pointing a firearm at a police officer is classified as a third degree offense, regardless of whether the case involved an actual handgun, an imitation firearm, or a laser device. This means that the penalties can include a term of incarceration of 3-5 years in state prison. Additionally, the court could impose fines of up to $15,000. To add insult to injury, the No Early Release Act requires those convicted of these crimes for serve 85% of the sentence before reaching parole eligibility.
It is important to keep in mind that police officers tend to react quickly when they believe their lives are being threatened in any way. Even if you are just "kidding around," a decision to point a firearm or any object that resembles a firearm in the direction of a police officer could have dire consequences, as tragic police shootings become more likely in situations involving someone brandishing or aiming a firearm at police. Even in the best-case scenario, if you are accused of pointing or aiming a weapon at a police officer in New Jersey, you will almost certainly be arrested and charged with an indictable offense. Beyond that, prosecutors tend to "over-charge" defendants accused of threatening or assaulting officers, which means that you could face a number of companion charges for related criminal offenses such as terroristic threats, possession of a weapon for an unlawful purpose, and other crimes. Finally, if you are convicted at trial, you can expect the judge to hand down a harsh sentence because, as a general rule, NJ judges want to send a message to the public that crimes against police officers will not be tolerated.
Defense Strategies for Pointing a Firearm Charge in NJ
There are different ways to dispose of charges you have through taking a negotiated plea, pleading guilty to the offenses and taking the statutory penalties, fighting them at trial, and more.  Having an experienced attorney review the facts of your situation and any applicable evidence may even allow for your charges to get dismissed.
For instance, one option may be PTI.  It is more likely for one to get PTI, or Pretrial Intervention, with third and fourth degree crimes as opposed to first and second degree crimes because the type of offenses that are classified as first and second degree are usually considered more severe.  Depending on the circumstances, even with more severe offenses, you still may be eligible for PTI.  Consequently, PTI or alternatively, a Graves Act Waiver, may grant you the opportunity to complete a probationary sentence and allow you to move forward beyond these charges.  Generally, any person accused of a crime shall be eligible for admission into the PTI program. However, persons charged with first or second degree crimes are considered presumptively ineligible and must present compelling circumstances to justify one's enrollment.
A first-time offender may be sentenced to a probationary term or sentenced to a lesser prison term if the imposition of incarceration would not serve the interests of justice. In instances where the sentencing mandates required by the Graves Act are deemed overly harsh or burdensome, the statutory "escape valve" may be used.  Overall, entry into PTI is discretionary depending on the aggravating factors and circumstances involved, coupled with the defendant's criminal history.
Our Lawyers Beat Pointing a Weapons Cases in New Jersey Superior Courts Statewide
The Tormey Law Firm represented a client in Morris County, NJ facing serious charges: second degree unlawful possession of a weapon, aggravated assault and terroristic threats.  In this case, the client was cleaning his firearm in his home when young men were walking up and down his street and eventually even intruded upon his property.  When the client yelled for the young men to get off of his property, he had his firearm at his side. Based on these circumstances, police were called and our client was charged with the above offenses.  After reviewing the discovery related to this matter, the evidence in this case was uncorroborated and inconsistent.  Thus, Mr. Tormey's knowledge of the law, and review of the evidence presented, led to the dismissal of the second degree unlawful possession charge in addition to the downgrade and dismissal of the other charges in the Municipal Court.
Similarly, in Essex County, NJ Mr. Tormey represented a client that was facing a second degree unlawful possession charge and aggravated assault for allegedly pointing a service weapon in a road rage dispute.  In this incident, our client was being pursued and tailgated by another party and it was alleged by the other party that our client pointed and/or brandished his service gun at him.  After the authorities were notified of the incident, our client was charged with the above-referenced charges.  Through Mr. Tormey's fervent advocacy, he was able to negotiate the entry into PTI for this client. The difference between this case and the Morris case is the fact that the client's significant other corroborated the evidence in this Essex matter.
Call NJ Pointing a Firearm Defense Attorneys Fighting for You
If you are charged with a fourth degree crime or a third degree crime for pointing a gun in NJ, or concurrently being charged with weapons possession and pointing offenses, it is important to consider hiring an attorney because you are likely facing substantial prison time. In addition to that, you are also staring down serious fines and penalties imposed by the Court. As such, it is important that you understand what lies ahead and how to proceed properly. Our seasoned defense lawyers know what to do and how to handle guns and weapons charges against you or a loved one anywhere in New Jersey. Contact The Tormey Law Firm for a free consultation now at (201)-614-2474.