Criminal Weapons Charges in NJ
Firearms Defense Lawyers with offices in Newark NJ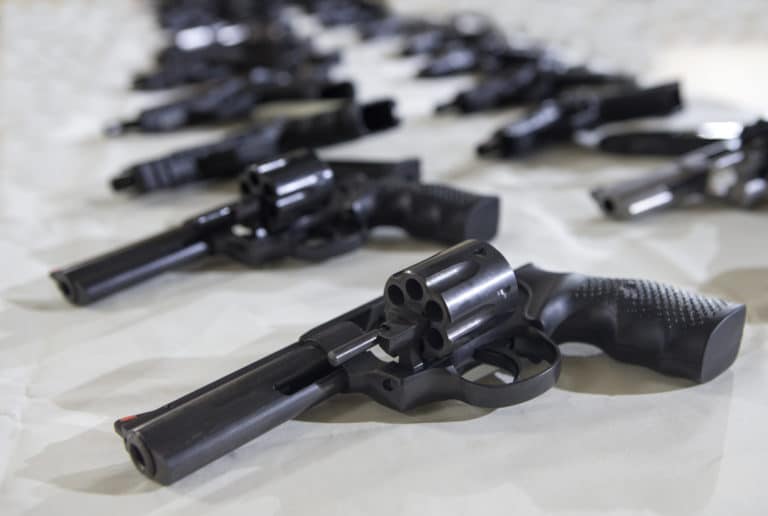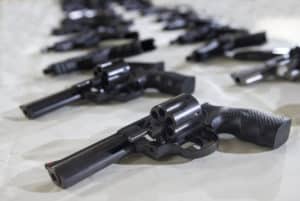 The New Jersey Code of Criminal Justice defines illegal weapons, listing everything from sling shots to automatic rifles. It includes items ranging from manufactured weapons to makeshift devices, like studded leather bands and razor blade studded wood. Even household items can be considered weapons if used for no other purpose but to cause harm, the criterion for an illegal weapon. Additionally, specific ammunition, such as large capacity ammunition magazines, hollow nose bullets, dum-dum bullets or bullets that can penetrate armor, are likewise unlawful other than for law enforcement, military, store owners, private security companies or private citizens storing ammunition on their property.
If you or a loved one is facing a weapons offense charge in New Jersey, we can help. The firearms defense lawyers at the Tormey Law Firm LLC have been successfully fighting gun cases throughout NJ for many years. In fact, our criminal trial team is composed of several former NJ prosecutors who used to prosecute gun cases for the state. Now, they use their experience and expertise to create a comprehensive defense strategy for our clients. In addition, our managing partner, Mr. Travis J. Tormey, was recently recognized as one of the top 10 criminal lawyers in the State of NJ. With over 60 years of combined experience, our accomplished team of gun lawyers has achieved hundreds of successes in gun cases.
Having represented clients in every county in the state who have been charged with weapons offenses, our strategies can best position you for the optimal result in your case. An experienced gun charge lawyer is at the ready to discuss your situation and some of the potential ways we can get your charges dismissed, keep you out of prison, or help you avoid the maximum penalties often imposed in weapons cases. For more information, contact our offices anytime for immediate assistance at (201)-614-2474. The initial consultation is always provided free of charge.
What is illegal possession of a weapon in New Jersey?
A weapon may be possessed illegally depending on the type of weapon or how it is owned, according to N.J.S.A. 2C:39-5. For example, unless you are in law enforcement, the military or licensed firearms dealing, you cannot possess machine guns or adaptation devices that turn guns into machine guns; handguns without carry permits, or air or spring guns, and pistols; loaded rifles and shotguns or those purchased without a firearms purchasing identification; unlicensed and unregistered assault firearms; or any other weapon obviously not used for its intended lawful purpose.
Illegal possession is sometimes a question of where, when or who. For instance, you cannot carry a weapon on the grounds of any school, college or university without the written permission of the appropriate governing educational institution officer. Additionally, N.J.S.A. 2C:39(4) and (4.1) criminalize the possession of weapons such as firearms, explosives, destructive devices, fake guns, or other weapons, for unlawful purposes or while committing other crimes. Finally, section N.J.S.A. 2C:39(7) makes it illegal for any person convicted of certain crimes to possess a weapon. The sale of a weapon to a minor or teaching anyone how to make weapons is likewise illegal in NJ.
Furthermore, it is illegal to carry a loaded gun in a car. It must be unloaded and locked up in the trunk. You face serious penalties for unlawfully possessing and transporting a weapon, a second-degree crime equivalent to arson and serious sex crimes. Moreover, unlawful possession of a firearm can land you in a prison without possibility of parole for at least 42 months or one-third to one-half of the sentence handed down by the judge, whichever is greater.
Criminal Weapons Charges in NJ: The NJ Criminal Code
Any illegal weapons offenses in New Jersey are governed by the New Jersey Criminal Code. Specifically, N.J.S.A. 2C:39-1 defines weapons including (a) antique firearms, (c) destructive devices, (e) explosives, (f) firearms, (g) firearms silencer, (h) gravity knife, (i) machine gun, (k) hand gun, (m) rifle, (n) shotgun, (o) sawed-off shotgun, (p) switchblade knife, (r) weapon, (t) stun gun, (u) ballistic knife, (v) imitation firearm, (w) assault firearm, (x) semi-automatic, (y) large capacity ammunition magazine, (z) pistol grip.
For the full text of the statute, N.J.S.A. 2C:39-1, click here.
Based on those definitions of firearms and weapons, New Jersey creates the following crimes:
What if You are Convicted of a Weapons Charge in NJ?
The punishment for unlawfully possessing shotguns, handguns or machines guns is prison time, the length of which is determined by the circumstances, for example if there are aggravating circumstances, like possessing a gun while committing a crime or participating in a crime organization. Sentences are determined by the degree of crime: first degree crimes between 10 and 20 years, second degree between 5 and 10, and third degree between 3 to 5. Unlawful possession of handguns is punishable by 5 to 10 years in prison, while possession of any other weapon without a permit is also punishable by significant time in jail. Also, each violation of each individual section of the Criminal Code adds more time to the sentence.
Am I going to prison if convicted of illegal weapons charges in New Jersey?
It depends on a number of factors. The first is the nature and degree of your charges. On a first or second degree offense, there is a presumption of imprisonment even with no prior criminal history. On the other hand, third and fourth degree weapons charges have a presumption of no jail for defendants with no prior criminal record. As a result, a defendant's prior criminal record (if any) is a crucial factor in deciding whether or not a defendant ends up in jail.
In addition, are there any motions that could be utilized to challenge the case in court? Such as a motion to suppress the evidence seized based on an illegal traffic stop or an illegal search. Obviously, if a motion is successful then the charges are thrown out of court and the defendant avoids any record or jail time.
Finally, is the defendant eligible for a first time offender program such as Pre-Trial Intervention (PTI)? This is a first time offender program that allows a defendant to be placed on probation and, if they successfully complete the probation, the charges will be dismissed which allows them to avoid these felony charges on their record as well as jail time. Typically, PTI is reserved for lower level felony charges such as third and fourth degree offenses. However, in certain cases PTI can be utilized for 2nd degree gun charges depending on the facts and circumstances of the case.
Charges that Often Accompany Weapons Crimes in New Jersey
In some cases, an individual will be charged with several crimes in relation to the same incident. For example, a person may be charged with armed robbery and possession of a weapon for an unlawful purpose for the gun they used during the robbery. There are certain charges commonly issued in conjunction with weapons crimes, including:
Our lawyers handle every aspect of weapons charges and related cases, aggressively fighting all of the charges against and clients and building the most effective defense.
False Arrest, Illegal Gun Possession Charges NJ? Contact us today
For more information, contact the firearms defense lawyers at the Tormey Law Firm at (201)-614-2474.