Illegal Firearms and Weapons Trafficking in New Jersey
"When it comes to guns and other weapons, the term 'trafficking' applies when firearms are being sold illegally, including activities surrounding unlawful sale and distribution outside of the legal market. These felony charges are among the most severe you can face in NJ, and you could be sentenced to 20 years in prison or more for related offenses."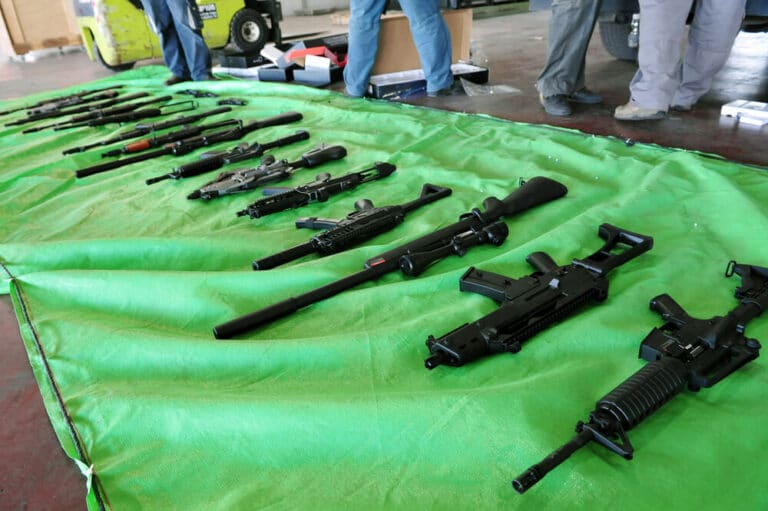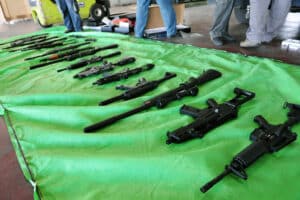 To legally buy a firearm in New Jersey, a purchaser must get a permit to purchase first. To do so, they must first apply for a Firearms Purchaser Identification Card at their local or state police station. Along with completing the necessary application, the applicant must be fingerprinted, pass a background check, allow for a search of their mental health medical records, pay a fee, and provide some personal information. Those who buy from licensed gun sellers present their required permit before purchasing a handgun or other type of weapon considered a firearm. Authorized gun sellers run background checks of purchasers to satisfy federal law. The dealer or seller runs the purchaser's information through the F.B.I.'s National Instant Criminal Background Check System (NICS). Thus, a purchaser with a criminal background or someone who is unauthorized is unlikely to obtain a firearm through legal channels. However, they may acquire a gun through illegal means. In addition to going after those who illegally purchase and possess weapons, law enforcement officials in New Jersey aggressively pursue those believed to be illegally trafficking, selling, and conspiring in the unlawful transportation and sale of firearms and weapons.
Leader of a Firearms Trafficking Network: N.J.S.A. 2C:39-16
Private sales, unauthorized dealers, and the black market may be sources of illegal firearm purchases. These sellers operate within rings of smugglers, and illicit dealers termed gun trafficking operations. If you get caught leading a firearms trafficking operation, New Jersey punishes you with a prison sentence of up to 20 years for a first degree crime. In addition, it is illegal to run a gun trafficking operation whether you lead by organizing, financing, or supervising the for-profit operation that sells, transports, or manufactures illegal weapons. This crime, outlined in New Jersey statute section N.J.S.A. 2C:39-16, is among the most serious you can be charged with under state law. In addition to prison and fines of up to $200,000.00 for a first degree crime, a judge could order you to pay an additional $500,000.00 fine or five times the value of the firearms, whichever is greater.
Notably, you do not have to sell a lot of weapons to be guilty of leading a weapons trafficking ring. For example, you and your associate could buy four or five firearms, two handguns and three rifles on the black market, intending to sell them to those who cannot legally purchase such guns. Some examples of people who illegally buy firearms include those considered convicted felons of certain crimes, known as certain persons. In addition to selling to unlawful purchasers, firearms trafficking operations often sell illegal weapons, such as high capacity magazines, defaced firearms, and ghost guns.
Additional Charges for Weapons Trafficking in NJ
If caught while participating in firearms trafficking in New Jersey, the state can charge you and your co-conspirators with numerous crimes. They may charge you with conspiracy to start a business of selling illegal firearms, illegal possession of weapons, possession of weapons for an unlawful purpose, and having prohibited weapons and devices. If you are already a felon, the state could charge you with further crimes for possessing a weapon as a felon. Furthermore, if you were the one with authority or control over anyone else in the business, you could be charged as a leader of a gun trafficking network. Not only that, but New Jersey also criminalizes being a gun dealer without a license and registration with the state. You could end up going to prison for many years and pay hundreds of thousands of dollars in fines.
Federal Laws on Gun Trafficking in New Jersey
Both federal and state laws forbid specific individuals from owning, purchasing, or possessing guns. Although there is no federal crime for gun trafficking, there is a federal law prohibiting straw purchases. A "straw purchase" occurs when someone buys a firearm for someone else but does not reveal that information in their transaction with a licensed and registered gun seller. Thus, the straw purchaser lies to get a gun to someone else. It is also a federal crime to knowingly buy or give a firearm to someone prohibited from having a gun. Thus, the person convicted for their involvement in drug trafficking may also be charged with federal violations if they obtain guns from straw purchasers and sell firearms to certain persons forbidden to own guns.
In some cases, federal agencies become involved when guns are being trafficked and transported across state lines, a common occurrence in New Jersey often facilitated by the notorious "Iron Pipeline." Depending on the circumstances, an individual charged with both federal and state gun trafficking offenses and other firearms violations may be facing extremely harsh penalties. Federal laws tend to punish more harshly than state laws do, but New Jersey penalizes quite severely in the case of firearms crimes. And the laws against firearms continue to expand, covering weapons ranging from untraceable firearms to placing new limits on ammunition. This translates into more charges that can be filed against defendants, all of which carry their own penalties, which can further be ordered to be fulfilled in tandem or one after the other. In essence, it is a nightmare to become ensnared in a criminal investigation for gun trafficking.
Charged with Firearms Trafficking in NJ? Talk to an Attorney Now
If the state of New Jersey or federal authorities accused you of weapons trafficking and related crimes, you urgently need the help of a talented firearms defense attorney who is familiar with both federal and state laws on illegal weapons sales and distribution, and one who knows how best to defend you in both court systems. Although the penalties are severe, the prosecutor still must prove all elements of each crime. Defenses may exist, depending on the legality of the search and seizure of evidence, the arrest, and any missteps made in the course of the investigation, such as maintenance of the evidence by the police.
At The Tormey Law Firm, our highly experienced New Jersey weapons lawyers understand that the prosecutor's burden of proof is extremely high. We use this to our advantage when zealously defending clients charged with guns and weapons trafficking offenses in courts across the state. Our attorneys are on the front lines of the criminal justice system in the realm of gun laws on the state and federal level. We fight for clients in Bergen County, Morris County, Essex County, Passaic County, Mercer County, Camden County, and everywhere in between. Contact us 24/7 at (201) 614-2474 for immediate assistance. A member of our team is available to discuss your case in free consultation and explain how we can best work to protect your freedom.