Controlled Dangerous Substances and Weapons in New Jersey
NJ Guns and Drugs Offense Lawyers – Contact Us Now if You Have been Charged with Possession of a Weapon during a Drug Crime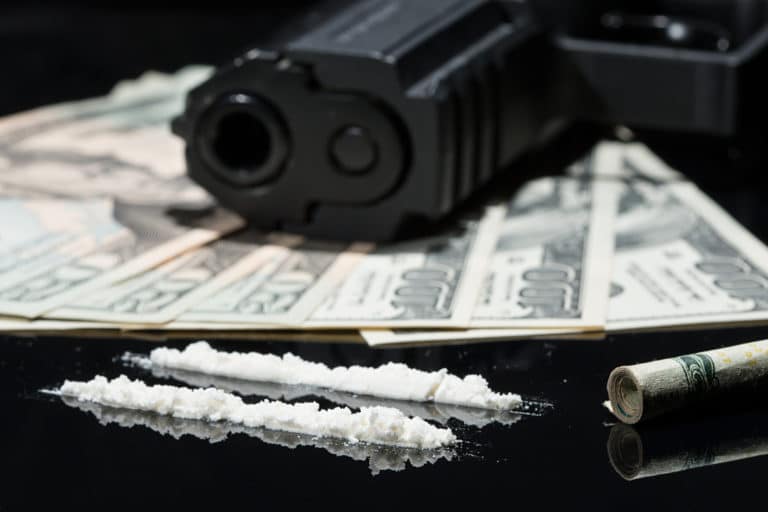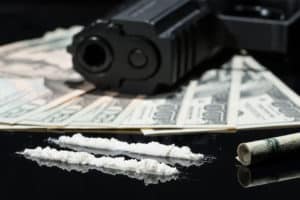 Do you need a lawyer after being arrested with drugs and guns in New Jersey? The attorneys at The Tormey Law Firm can help. It is very common for guns and other weapons to intermingle with drugs.  In many cases, people who are caught selling or purchasing large quantities of drugs typically are also caught carrying a weapon.  In turn, New Jersey enacted a law that severely punishes individuals who are convicted of possessing a gun or a weapon while in the course of committing a drug offense.  The statute is commonly referred to as the drug and gun law and can be found under N.J.S.A. 2C:39-4.1 of the New Jersey Criminal Code.  The statute provides that it is a crime of the second degree to be in possession of a firearm or other weapon while committing, attempting to commit, or conspiring to commit any of the following offenses:
Distribution of a controlled dangerous substance,
Possession with intent to distribute a controlled dangerous substance,
Maintaining or operating a drug production facility,
Employing a juvenile in a drug distribution scheme,
Distributing a controlled dangerous substance within 1,000 feet of school property, and
Distributing drugs within 500 feet of public property.
In addition to the above outlined drug offenses, the statute also punishes individuals who are in possession of a weapon while committing the offense of bias intimidation.  Bias intimidation is the act of committing or attempting to commit a crime against another person for the purpose of terrifying them because of their race, color, ethnicity, religion, gender, disability, or orientation (N.J.S.A. 2C:16-1).
2nd Degree Charges : Possession of Guns and other Weapons while Distributing Drugs, Penalties
In short, the law prohibits utilizing or possessing a gun or a weapon while committing a drug offense or trying to intimidate a certain class of people.  If a person violates the statute, 2C:39-4.1, he or she will be found guilty of a second degree offense, which means he or she will be sentenced to a prison term between five and ten years and also subject to a fine of up to $150,000.  On top of that, because the crime is one of the second degree, it contains a presumption that the defendant will be sentenced to prison.  What that means is it is almost certain the person will be incarcerated if he or she is convicted.  Even if you are a person that has never been convicted of a crime before and has never been even arrested for an offense, it does not matter.  The person will very likely be sentenced to prison.
Notwithstanding the presumption of incarceration, what makes the law worth discussing further is the sentencing provision listed in the statute itself.  Most of the laws in our criminal code do not contain a specific sentencing provision.  As a result, the Judge has some discretion when imposing the punishment.  However, the CDS and weapons statute provides that if a person is convicted for violating the drug and gun law, the charges shall not merge and the imposed sentence must be a consecutive sentence.  Consequently, the convicted individual will have to serve the sentence for the drug offense, then that same person will have to serve the prison term for the drug and gun violation, which can be between five and ten years.
Consecutive Sentences for CDS Offenses when Firearms are Possessed in New Jersey
Generally, when a person commits multiple crimes or the crime itself contains a lesser included offense, the Judge has the option to run the sentence concurrently, or merge the charges.  For instance, if a person gets into a severe bar fight and is convicted of three counts of third degree aggravated assault, he or she is facing a potential prison term of 15 years.  This is because a third degree offense subjects the defendant to a prison term between three and five years.  Thus, if the person is given the maximum term on each charge and the sentence is consecutive, he or she will be in prison for 15 years.  However, in such a situation, the Judge does not have to impose such a severe sentence. Because the event took place on a single date and centers on the same set of circumstances, the Judge may run the sentence concurrently, meaning, at the same time.  Therefore, the individual may only have to serve between three and five years in prison.
Also, let's say a person breaks into another person's home and steals their money.  That same person is later convicted of burglary, trespass and theft.  To be found guilty of burglary, an individual must unlawfully enter a premises with the intent to commit a crime inside.  Thus, the burglary conviction already contains the trespass and theft offenses. Consequently, instead of punishing the defendant for all three offenses, the trespass and theft charge merge into the burglary conviction and the defendant is only sentenced for one offense.
The idea behind concurrent sentences and merging charges is not to punish a person twice for a single episode or incident.  However, for the drug and gun conviction, the statute specifically forbids the Court from entering a concurrent sentence or merging the charges. Why is that?  Our lawmakers and elected officials have collectively decided that they do not want firearms intermingled with the commission of crimes. They want to extinguish the presence of guns and other weapons in relation to drug deals and terrifying certain classes of people.  They feel that the presence of a weapon brings an extreme amount of fear and danger to the situation. As such, to accomplish their goal of removing weapons, they enacted a statute that forces Judges to impose severe punishments in the hopes of deterring others from committing such crimes.
Nevertheless, the statute does not prohibit the prosecutor from dismissing the charge. Moreover, it certainly does not forbid the Court from dismissing a violation of N.J.S.A. 2C:39-4.1 if a motion is filed by the Defense. Thus, if you are facing a drug and gun charge, it is vital that this particular offense be dismissed so you are not subjected to its harsh and mandatory sentencing provision.
Need Lawyer for Guns and Drug Charges in NJ? Call Us Now
If you or someone you know is facing charges for possessing firearms or other weapons during the commission of a drug crime in New Jersey, the necessity for a knowledgeable and skilled defense lawyer representing you cannot be overstated. Quite frankly, years and often decades of imprisonment are on the line should the case not go your way. At The Tormey Law Firm, our attorneys have garnered invaluable experience defending clients charged with a vast array of offenses involving drugs and guns in courts across New Jersey. Contact our law firm now at (201)-614-2474 for immediate assistance. Consultations are free and a member of our team is available now to provide specific answers to your questions and further guidance.