Gun Permits in New Jersey
New Jersey Gun Lawyers with Offices in Newark, NJ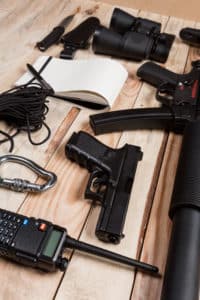 In New Jersey, there are a variety of permits that are required to purchase and/or carry a firearm. Note, that these permits are different, so it is essential to understand which permit(s) are relevant to your specific situation. At the Tormey Law Firm, our attorneys are well-versed in New Jersey gun law and we regularly assist clients with the firearms permit process, appeals of gun permit denials, return of weapons hearings related to domestic violence, expungements to obtain gun permits, and criminal defense for those facing criminal weapons charges. Led by Travis J. Tormey, who was recently named among the top 10 Criminal Attorneys in New Jersey by the American Jurist Institute, our highly skilled legal team includes several former gun prosecutors, as well as a former member of the Morris County Prosecutor's Office's Weapons Forfeiture Unit. We utilize a wealth of knowledge and experience to achieve superior results for clients across New Jersey, including in Bergen, Morris, Essex, and Middlesex counties. Contact us today at (201)-614-2474 for a cost-free consultation and learn how we can help you protect your rights.
Types of Firearms Permits in New Jersey
Firearms Purchase Permits in New Jersey
There are two distinct firearms purchase permits in New Jersey, each of which applies to a specific classification of weapons. New Jersey law regarding the purchase of firearms is outlined in section N.J.S.A. 2C:58-3 of the New Jersey Administrative Code. According to this statute, you must obtain a "New Jersey Permit to Purchase a Handgun," in  order to legally purchase a handgun in New Jersey. On the other hand, if you intend to purchase a rifle or shotgun, you must obtain a "New Jersey Firearms Purchaser Identification Card." 
In order to obtain a New Jersey Permit to Purchase a Handgun or a New Jersey Firearms Purchaser Identification Card, you must follow a strict protocol. First, you must submit an application to the Chief of Police at your local police department or to the Superintendent of the New Jersey State Police. The application form is the same for both types of purchase permits and will require you to provide a host of personal information, including your current residence, place of employment, and use of alcohol or controlled dangerous substances. The permit process will also include a complete background check with the New Jersey State Police and FBI, mental health records search, investigation by the local police, fingerprinting, and two references. New Jersey also requires gun permit applicants to demonstrate training in the safe handling and use of firearms.
Carry Permits in New Jersey
The other form of firearms permit in New Jersey is a Permit to Carry a Handgun. The State's policy and requirements associated with carry permits are incredibly stringent. Similar to firearms purchasing permits, those seeking carry permits must submit their applications to the Chief of Police at their local police department or to the Superintendent of the New Jersey State Police. The applicant must fulfill a number of criteria, one of which requires them to provide the State with four endorsements from "reputable persons" who have known the applicant for at least three years and can attest to their character. Police will also conduct an interview with the individual submitting the application and those endorsing them.
In addition, a carry permit applicant must demonstrate that he or she:
Has not made any statements or engaged in any conduct (other than lawful self-defense) that indicates they are likely to be dangerous to themselves or others;
Is not subject to any of the disabilities set forth under N.J.S.A. 2C:58-3c (which governs the purchase of firearms); and
Is thoroughly familiar with the safe handling and use of handguns and has satisfactorily completed training requirements.
While a carry permit applicant was previously required to demonstrate that he or she had a justifiable need to carry a handgun, this requirement has been eliminated since the U.S. Supreme Court decision in the case of New York State Rifle & Pistol Association v. Bruen. New Jersey responded to the decision with the adoption of a new law that prevents state officials from denying permits to carry handguns to individuals who cannot show a justifiable need. Thus, "justifiable need" is no longer required in order to obtain a carry permit.
If you obtain a permit to carry a handgun in New Jersey, it will expire two years from the date of issuance. You may apply to renew your carry permit after the two-year period and will be subject to the same application process.
Contact our Essex County Gun Lawyers for Immediate Assistance
If you are seeking a firearms purchaser identification card, permit to purchase a handgun, or handgun carry permit, or are seeking to appeal a denial of such a permit, contact our New Jersey gun lawyers for the answers you need to move forward. One of our highly knowledgeable attorneys is available immediately to provide you with a cost-free consultation.