First Offense Gun Cases in New Jersey
"If you have been arrested and charged with an illegal gun in New Jersey, and you are a first time offender, you are still facing significant time in state prison under the Graves Act. Typically, the offer is 5 years in prison, 42 months to be served before becoming eligible for parole. However, a Graves Act waiver can be obtained in certain cases to lower the prison time or remove it entirely depending on the circumstances of your charges."
Firearms Defense Lawyers with offices in Hackensack, New Jersey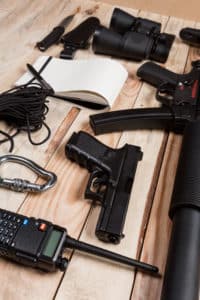 Have you been arrested and charged with a first time gun offense in New Jersey and you have no prior record? We can help.
The criminal trial team at the Tormey Law Firm LLC is composed of former gun prosecutors and experienced criminal defense attorneys who will stop at nothing to get you the best result in court. In fact, our former prosecutors used to prosecute gun cases for the State and dealt with weapons forfeiture issues as well. Now, they use that experience to provide our clients with the best possible service when tackling these serious firearms offenses including first offense gun cases in NJ. In addition, our managing partner, Travis J. Tormey, was recently recognized as one of the top 10 criminal lawyers in the State of NJ and has received the AVVO clients choice award four years in a row. Contact our offices anytime for a free initial consultation at (201)-614-2474. We represent clients throughout NJ including in Linden, Bayonne, Union Twp., and Jersey City.
Here is a review from one of the many satisfied clients of the Tormey Law Firm LLC:
"I was extremely happy with the performance, support and professionalism of Travis Tormey in my son's recent court case. Before we even hired him he consulted with us via telephone and spent a considerable amount of time answering our questions and giving us additional information. Once hired, he was truthful at all times at what my son was up against. Travis truly worked to secure what was in my son's best interest. He got charges reduced and fines lessened. I have gone on to recommend Travis to 2 other friends who have been just as happy with him." 5 stars – Ellen
Defending a First Offense Gun Charge in NJ
If you have no prior criminal record and are charged with a firearms offense in New Jersey, you are most likely facing a second degree crime for unlawful possession of a weapon. On a second degree offense, you are facing 5-10 years in New Jersey State Prison, with a presumption of imprisonment even for first time offenders. This means that, if you are convicted of this second degree crime, it is presumed that you would be sentenced to State prison with the minimum term being 5 years. In addition, under the Graves Act which governs firearms offenses in NJ, you must serve a minimum term of imprisonment before becoming eligible for parole.
NOTE: This is a crucial distinction between "flat time" and a period of parole ineligibility. For example, on a 5 year flat sentence, a defendant is typically eligible for parole after anywhere between 12 and 16 months in prison. Alternatively, on a Graves Act offense on 5 years the typical parole ineligibility period is 3 years. This means that you must serve all 3 years before being eligible to be released on parole.
Now, the first thing to examine with regards to your case is the traffic stop (if applicable) and the search (of a motor vehicle or your home). If there are any search issues, a motion to suppress could result in the entire case being dismissed.
After all motions are considered, plea negotiations can result. If you have a valid out of state permit, this could be a mitigating factor that should be presented to the prosecutor's office. Also, you can try and gain admission into the Pre-Trial Intervention (PTI) program. If successful, this would allow you to not only avoid jail time but also to avoid a felony on your record if you successfully complete the probationary period of PTI.
Compelling Reasons in Support of a Graves Act waiver
An experienced firearms defense lawyer will submit a mitigation package known as a compelling reasons package in support of a Graves Act waiver to lower or eliminate the mandatory prison time associated with gun charges in the State of New Jersey. The Graves waiver is required to received a probationary sentence (with no jail) as well as potential enrollment in the Pre-Trial Intervention program.
Some of the components of a compelling reasons package submitted by your experienced attorney should include the following:
Proof of employment
Paperwork of legal purchase of the weapon
Carry permit for another state
Character letters
Proof of travel plans to New Jersey (why were you here with the weapon in question)
In addition to these documents submitted, the other factors a prosecutor will consider when determining whether a Graves Act waiver is appropriate will include the following:
Where was the weapon in question (in a vehicle? within reach of the defendant?)
Was the weapon loaded
Was there danger to law enforcement or the public
Did the defendant tell the police about the gun
What kind of gun was it (assault rifle?)
Was there a high capacity magazine (increased danger to the public)
Were there hollow point bullets
After submission of the mitigating package in support of a Graves Act waiver, the prosecutor will speak to their supervisors and try and get approval for a plea offer. In the best cases, they offer PTI which allows a defendant to avoid both prison time and a felony record. If PTI is not approved, they may also be allowed to offer non-custodial probation which results in no jail time but a felony record (which may be expunged in certain cases after 5 years). Finally, in the most serious cases, they may offer a Graves Act waiver and departure from the 5 years, 42 months without parole, to 5 years, 1 year without parole. This means that the defendant must serve one year in prison before becoming eligible for parole instead of 3.5 years.
This is my first arrest, Local Union County Firearms Lawyers Near Me
For more information, contact our offices anytime for immediate assistance at (201)-614-2474.