New Jersey Gun Permit Appeal Attorneys
Weapons Lawyers with Offices in Morristown, NJ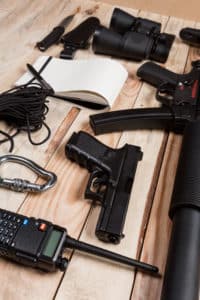 New Jersey makes the path to gun ownership a long and circuitous one, fraught with potential impediments that may prevent you from obtaining the necessary permits and ultimately, the firearm you desire. Whether you are seeking a Permit to Purchase a Handgun, a Firearms Purchasing Identification Card, or a Permit to Carry a Handgun, you must be prepared for an uphill battle. After jumping through the bureaucratic hoops of the New Jersey gun permit process, having your application denied can be utterly defeating. Fortunately, this do not need to mark the end of your journey. New Jersey law provides individuals who are denied permits with the right to appeal. However, the gun permit appeal process is often even more complex and challenging than the application process itself. In order to protect and assert your rights during these proceedings, which are held before Superior Court judges, it is highly advisable to enlist a knowledgeable and aggressive New Jersey weapons attorney.
At The Tormey Law Firm, our highly skilled lawyers have unique and valuable insight into New Jersey weapons laws. Our founder, Travis J. Tormey, has received numerous accolades from prominent organizations and has been called upon as a legal resource for publications and media outlets such as CBS radio. He was also recently recognized among the top 10 criminal defense attorneys in New Jersey by the American Jurist Institute, after previously receiving awards from the American Trial Lawyers Association and the National Association of Criminal Defense Lawyers. Mr. Tormey leads a team of former gun prosecutors, former members of the U.S. Attorney's Office, and a former member of the Morris County Prosecutor's Office's weapons forfeiture unit. They serve as a formidable force in courts across New Jersey, challenging the State and advocating for clients in gun permit appeal hearings, weapons forfeiture hearings, and criminal gun prosecutions. To speak with one of our experienced New Jersey gun lawyers today, contact us at (201)-614-2474 to receive a cost-free consultation.
Gun Permit Appeals in New Jersey
As mentioned above, if your gun permit application was denied, you are entitled to request a hearing in the Superior Court in the county in which you filed the application. This request must be made in writing within 30 days of the initial denial and must be served upon the County Prosecutor in the county in which the hearing will occur, the Superintendent of the New Jersey State Police, and the Chief of Police in the municipality in which you reside. Under New Jersey law, the appealing applicant pays no filing fee, and the state tracks and numbers appeals. For additional tracking purposes, court staff now records identification and statistical information, including name, birth date, original application purpose, expiration dates for renewals, and other details on the initial application and its denial.
The Court must then set a date for the appeal hearing, which must be held within 60 days of the receipt of your request. If you are a retired police officer, the appeal hearing must be held within 30 days of the receipt of your request. Before the hearing, you will receive a discovery packet containing your initial application and associated documentation, including criminal background checks, mental health records, responses from the references you provided, and notes from investigating officers. This discovery packet may be provided by the Prosecutor's Office, the local police department, or the township attorney. If the county prosecutor files a response to an appeal, they have 14 days to do so, though they have no obligation to do so. The court decides the appeal with or without the prosecutor's response.
An appeal hearing is a complex legal proceeding, requiring evidence, testimony, and a compelling argument in your favor. Due to the intricacies of this process and the long-term implications, it is highly advisable to enlist an attorney who has experience with gun permit appeals. Your attorney should utilize the discovery packet, as well as any other relevant information, to support your case. Our New Jersey gun lawyers have achieved great success representing clients across New Jersey at these hearings. We employ all of the knowledge, experience, and resources at our disposal to obtain superior outcomes.
Contact our Local Morris County Gun Application Appeal Lawyers to Discuss Your Case
If your application for a permit to purchase a handgun, firearms purchaser identification card, or permit to carry a handgun was denied in New Jersey, we can help. Contact our New Jersey gun lawyers today at (201)-614-2474 to learn more about your available legal options. We provide cost-free, no obligation consultations and represent clients in Morris, Essex, Bergen, Passaic, Hudson, and Middlesex counties, and across New Jersey.