Fort Lee Gun Charges Result in PTI Admission Thanks to the Tormey Law Firm
"We represented a professional bodyguard in Fort Lee in Bergen County NJ who was illegally possessing his weapon. After negotiating with the prosecutor, we obtained his admission into the PTI program. When he successfully completed the probationary period, the charges were completely dismissed."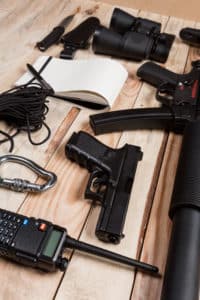 Do you need a lawyer for a gun charge in Fort Lee NJ in Bergen County? We can help.
Travis J. Tormey represented a client charged with unlawful possession of a weapon, a second degree offense, for possession of a handgun without a valid permit. Our client was a security guard for a rap artist and traveled to the New York/New Jersey area for a concert tour. He was a registered owner of a handgun in North Carolina but did not have a proper permit to possess a handgun in New Jersey. In addition, although the gun was in the gun case, it was in the tour bus and was not in the trunk of the vehicle as it is required to be if you are traveling through NJ in possession of a handgun. As a result, our client was facing 5-10 years in prison with a presumption of incarceration even though he had no prior criminal record. In addition, based on the Graves Act, the minimum term of imprisonment would be 5 years with a 3 year period of parole ineligibility. This means that he would have to serve a full 3 years in New Jersey state prison before he would be eligible to be released on parole.
Based on the circumstances, the criminal defense attorneys at the Tormey Law Firm LLC applied to the Bergen County assistant prosecutor handling the case for a Graves Act waiver which would allow the State to take the case out of the Graves Act and, as a result, the mandatory prison time and parole ineligibility. The attorneys explained that the client was a security guard and was required to be armed for his job, that he intended to lawfully transport the weapon through NJ in a gun case, and numerous character references were provided on the client's behalf.
The assistant prosecutor applied to the Bergen County Prosecutor for the Graves Act waiver and it was granted. The client was placed
in the Pre-Trial Intervention (PTI) program
which allowed him to not only stay out of jail but also to avoid a felony charge on his record. After successfully completing the PTI program, the client hired the Tormey Law Firm again to expunge the arrest and then the incident was completely removed from the client's record.
Fight a Gun Charge, Local Bergen County Firearms Lawyers
This was a tremendous result for the client and the Tormey Law Firm.