Tormey Law Firm Wins Gun Permit Appeal in Passaic County NJ for Satisfied Client
Need a Lawyer for a Gun Permit Appeal in Passaic County NJ?
Gun Permit Denial Attorneys Handling Cases in Paterson, New Jersey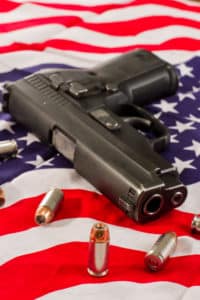 Do you need a lawyer for a gun permit appeal in Passaic County NJ? We can help. Here is a case we handled for a very satisfied client in 2019 where we were able to get his gun rights restored.
Our client, J.H., contacted the Tormey Law firm to assist him in appealing a firearms permit application denial.  J.H. had a few contacts with the law when he was a juvenile and as a result, his local police in Passaic City determined he was disqualified from purchasing a gun.  Nevertheless, his interactions with our justice system occurred two decades ago, were subsequently expunged, and since then, he graduated from college, got married, and even had a new born son.  Moreover, he was attending the police academy so he can better support his family, which is why he applied for a permit in the first place. Not for self-defense, hunting, or target shooting, but to provide a better life for his family.  However, the police did not view J.H. as a changed individual and consequently, denied his application for a permit.  As such, he contacted our office.
If this gun permit denial stayed in place, J.H. would be prevented from becoming a police officer because he couldn't possess a weapon. He could apply again in the future but the police's previous decision to deny his application remains on record and creates an uphill battle for ever obtaining a gun permit in the future. Luckily, he hired us in time and we appealed the gun permit denial within the 30 days provided by New Jersey law.
From there, the firm immediately filed an appeal and had a full hearing in Passaic County Superior Court in Paterson and two days of oral argument. At issue was whether the State could deny his application based upon his expunged record.  The State argued that they can utilize his past because he voluntarily disclosed it on his form and furthermore, his past indicated he presented a risk to the public.
In contrast, we asserted an expunged record cannot be considered in the context of a firearms appeal and cited to several cases as well as the plan language in our expungement statute to support our position.  We also stressed to the Judge that J.H. did not pose a risk to the community.  We argued and presented large amounts of evidence demonstrating that as an adult, he is a law abiding citizen who can be trusted to handle a firearm.
Successful Gun Permit Appeal Filed and Won by the Tormey Law Firm
Ultimately, the Court decided in our favor and granted J.H.'s request for a permit. This was the correct result and a fantastic outcome for our very happy client. If you or a loved one needs assistance with a firearms permit issue in New Jersey, contact our offices now for immediate assistance and a free initial consultation.