Gun Buyback Program Aims to Quell Gun Violence in New Jersey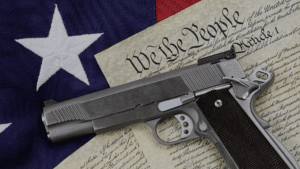 New Jersey's gun laws are some of the most stringent in the nation. But even with the strict firearms laws, troubling news of gun violence and firearms-related deaths continues to make headlines in New Jersey on almost a daily basis. However, residents of Camden County have recently begun efforts to fight back and organize a gun buyback program. In fact, Alicia Merritt, a New Jersey mother who recently lost her son to gun violence, is advocating for a safe surrender program like a 2012 gun buyback program that resulted in more than 1,000 guns being turned over to Camden County authorities.
The fact of the matter is that the Second Amendment of the United States Constitution protects citizens' right to bear arms. But another fact is that the illegal possession of weapons and gun-related violent crime is a problem facing our society right now. Moreover, there doesn't appear to be a clear solution in sight. In light of the recent efforts in Camden County and elsewhere to arrange a firearms buyback, NJ officials recognized the need these kinds of gun buyback programs. For example, Camden County Freeholder Director Louis Cappelli, Jr. stated that Camden County police officers "respond to thousands of calls a year to a man with a gun." Moreover, said Cappelli, "a super majority of the firearms" that Camden County cops remove from the streets are illegal and come from other parts of the country. Cappelli further acknowledged that gun possession crimes constitute "a public health crisis."
Camden Gun Buyback Program – Dispose of Weapon Legally
Despite the ongoing and pervasive issue of illegal gun violence, New Jersey does have very strict firearms laws and any gun crime conviction is likely to result in a stiff prison sentence. That's because criminal sentences related to firearms offenses in New Jersey are governed by the Graves Act, which establishes mandatory terms of imprisonment and parole ineligibility for those convicted of gun law offenses. For example, anyone facing a charge of unlawful possession of a weapon or a charge of possession of a weapon for an unlawful purpose, both classified as second degree felonies, can potentially be sentenced to 5-10 years in NJ State Prison.