Essex County Raising Money for Unique Gun Buyback Strategy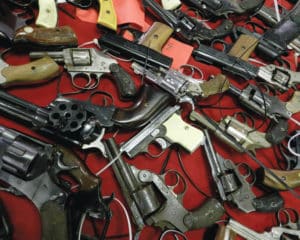 The Essex County Bar Association, working alongside the Essex County Prosecutor's Office, is seeking to raise money for a firearm buyback event. "It helps everyone," Acting Essex County Prosecutor Robert D. Laurino said Wednesday. "It makes the community safer and our job easier. There's one less gun out there that could wreak havoc." In addition, Mr. Laurino and Attorney Mathew Adams said the publicly-funded event may be the first of its kind in New Jersey. Private groups and residents do sometimes make donations to support county- or police-run buyback events, but it's very rare in New Jersey to have a public fundraising campaign to finance the whole buyback pot. "I thought it was a great idea. I think it's one of the rare public-private partnerships," Mr. Laurino said of the bar association's efforts. "Funding is always a problem when we do these kind of events and having the public step up, to be able to participate through the funding aspect, it shows their concern about the community."
Typically in New Jersey, gun buyback events are supported with grants or drug forfeiture money, either from county or local authorities, the Attorney General's Office, or both. A year ago, the Attorney General's Office worked with local authorities on three buyback events and handed out $481,620 in exchange for 4,775 guns. Mr. Laurino said that before the 2017 event, there hadn't been an Essex County buyback since 2013. The high cost and limited forfeiture money is a big part of why there haven't been more, he said.
With the bar association committed to raising the money for this event, the acting prosecutor agreed that his office would handle the logistics and staffing of the event. New Jersey State Police and other county and local authorities will also be assisting. Mr. Adams said bar association President Raj Godhok came up with the idea of funding a gun buyback as the group's annual community service project. "We want to do our part," Adams said Monday. "This isn't about gun rights or the Second Amendment. It's about trying to get illegal and unsafe guns off the street."
The attorneys were the first to chip in, with some donating in the thousands of dollars. The Essex County Prosecutor's Office pledged $5,000 in forfeiture money, too. They've raised approximately $40,000 so far, Mr. Adams said, mostly from people donating $50 or $100.
The buyback will be held this fall at Bethany Church in West Orange. A person turning in a gun can get anywhere from $25 for a long gun to $200 for an assault rifle, and cops won't be asking any questions about where the weapons came from or if they're legal or registered. The 2017 buybacks in New Jersey collected 1,973 handguns, 1,142 shotguns, 1,025 rifles and a range of other firearms including 129 firearms that police described as "assault weapons."
While many tout buybacks as a way to keep guns off the streets and out of the wrong hands, experts have said that they are one of the least effective ways to reduce gun violence. They argue that most of the people exchanging guns for cash are not criminals with illegal weapons, they're residents handing in antiques or hunting weapons unlikely to be used in crimes.
Nevertheless, if you are seeking to purchase a new firearm New Jersey, you must first obtain a proper purchaser's permit. To do so, you must submit an application with your local police department. You must also execute several releases so the police can examine your criminal history and medical history to insure you are not suffering from any mental or physical handicaps that would make it unsafe for you to handle a firearms. You must also provide two character references.
Lastly, the local police will approve your application unless you are disqualified for one of the following reasons:
1. been convicted of any crime;
2. deemed a drug dependent person;
3. deemed an habitual drunkard;
4. confined for a mental disorder;
5. suffer from a physical or mental disease which would make it unsafe for his to handle a firearm;
6. is subject to a restraining order;
7. named on a terrorist watch list;
8 poses a public safety threat.
Firearms Attorneys in Essex County, NJ
If you are seeking assistance in order to obtain a firearm or you are facing criminal charges for illegal possession or use of a firearm in New Jersey, please contact our office for help. Our experienced New Jersey firearms attorneys defend individuals accused of weapons crimes in Essex County and throughout New Jersey. We also assist those seeking gun permits and those who have been denied firearms permits in NJ. Call (201)-614-2474 for a free consultation to learn more about how we can help you with a gun-related issue.
For additional information regarding this matter, access the following article: These lawyers want your cash to buy back and destroy guns