Unconstitutional Search Results in Dismissal of Atlantic County NJ Weapons Charges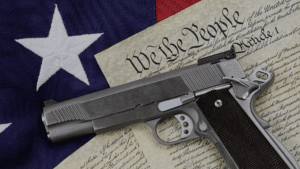 On January 12, 2017, the New Jersey Supreme Court dismissed weapons charges against an Atlantic County man because the police illegally entered the man's home during an investigation and violated his constitutional rights.
The court ruled six to one that a Somers Point police officer lacked probable cause to follow James L. Legette into his apartment following a noise complaint at his building. Specifically, the court found the officer was conducting an investigatory stop rather than an actual arrest and that he should not have entered the apartment without either a warrant or the man's consent.
Legette argued that a handgun found by the officer was inadmissible evidence because the investigating officer told Legette "he would have to accompany him to his apartment." However, Legette did not consent to the officer's entry into the home nor did the officer have a warrant. Although prosecutors agreed on appeal that the search and detention went beyond what was necessary to investigate, they argued that the evidence was admissible under the "theory of inevitable discovery" and asserted that the officer would have eventually found the firearm if he had followed procedure. Ultimately, Justice Faustino Fernandez-Vina held that the officer's warrantless entry was "improper" and that "the evidence seized as a result of that unlawful entry should be suppressed."
The dismissal of Legette's weapon's charges is significant because under New Jersey gun laws, unlawful possession of a handgun is a second degree crime pursuant to N.J.S.A. 2C:39-5(b). As with all second degree crimes in New Jersey, anyone charged with second degree unlawful possession of a handgun faces 5-10 years in New Jersey State Prison. However, the weapons sentencing provisions under the Graves Act also requires a mandatory prison sentence and parole eligibility for those who are convicted of unlawful possession of a weapon – even if the defendant has no prior criminal history.
Gun Case Thrown Out Based on Illegal Search Atlantic County NJ
If you have been charged with a firearms-related offense, contact the experienced weapons defense lawyers at the Tormey Law Firm to learn more about criminal charges for unlawful possession of a weapon, handgun carry permits, the Graves Act, and how to fight a gun-related charge.